Kitchen Remodeling Services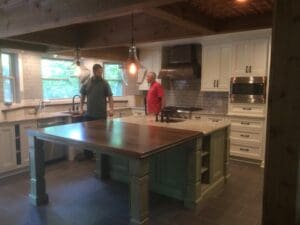 The kitchen is often the heart of a home. So much time is spent there in preparation to feed family or guests and traffic in and out is constant. The state of a kitchen is a leading factor in home value and sales (bathrooms are also important). Woodell Construction can transform your kitchen into a room worthy of being featured in a magazine!
Available options for our kitchen remodels are abundant. We offer custom cabinets and cabinetry sets, kitchen islands, quality flooring options including hardwood, wall finishings, high quaility loaded appliances, high-end custom sink options, high-end lighting including LED accent lights, and much more than we can write here - if you'd like to know more about something specific just ask. The options are endless!
Allow Woodell Construction to work with you to craft the kitchen of your dreams! Just call 501-454-0930
OR
Fill out the instant quote form on this site and we will get in touch with you soon.