Bathroom Remodeling Services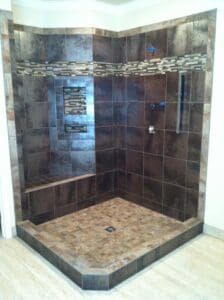 A bathroom remodel from Woodell Construction will transform your bathroom into a place of privacy and peace that you will never have to worry about being embarrassed by when guests visit.
As with kitchen remodels, modern options for bathroom remodels are near endless, and the bathroom customization options available today for bathroom renovation and remodeling will not only add extra functionality to your bathroom - they will add class and elegance in a place most would no associate with those words.
Fill out the Instant Quote form on this website or call us today for a free quote at 501-454-0930
A Woodell Construction bathroom remodel can replace and update your bathroom tile, bathroom sink, bathroom flooring, bathroom vanity, bathroom cabinetry, bathtub, bathroom shower, bathroom facet, bathroom wall or bathroom wall covering, bathroom lights and light fixtures, toilets, and anything else you need.
Are you or a family member getting to the point in your age when you need to consider adding safety features such as handrails or zero-barrier shower facilities to your bathroom? The professional contractors at Woodell Construction can help.
A Woodell Construction bathroom remodel can make your bathroom exactly how you'd like it.
There's a reason Woodell Construction is the #1 bathroom remodeler in Searcy, Cabot, Little Rock and the rest of central Arkansas.